2023 CSCC Travelling Lectureship
Quoi de Neuf?
Diagnostic Technologies and Digital Solutions for Transformation and Impact
Novel technologies have changed the landscape of diagnostics in Infectious Diseases. In this talk, we will explore promising technologies, relevant especially for Sexually Transmitted and Blood-borne Infections. Together with connected digital solutions, diagnostic technologies have the potential to impact care across diverse settings from clinics to communities to homes. Although some of their untapped potential was appreciated during the COVID-19 pandemic, their integration is far from ideal. We will learn lessons from successes. Finally, we will discuss the role these technologies play in catalyzing digital health transformation, as it unfolds with a plethora of solutions. Solutions that promise efficient surveillance/tracking, education/empowerment, rapid access to testing and treatment, or an offer of personalized care, lead to clinical/public health impact.
Selected Topics
1. State-of-the-art novel diagnostic technologies
2. Connected diagnostics solutions that impact health service delivery
3. Digital health transformation
Objectives:  At the conclusion of this session, participants will be able to:
Identify Novel Diagnostic (Dx) Technologies
Understand the evidence on connected global Dx solutions
Appreciate the solutions with potential for digital health transformation and their impact on patient-centered outcomes.
Speaker: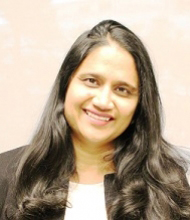 Nitika Pai
Associate Professor (Department of Medicine)
Divisions of Clinical Epidemiology, Infectious Diseases, and Experimental Medicine
McGill University and Research Institute of the McGill University Health Centre
Nitika (Nikki) is a global expert in point-of-care diagnostics, digital health, and implementation science in HIV/STBBI with a global research program that is based in Canada, South Africa, and India. In her research, she synergizes digital health, machine learning, and analytics, with rapid diagnostics and wearables to impact service delivery in community settings.
Her innovative programs aim to generate clinical, public health, and social impact. She has been a recipient of many innovation and research excellence awards. She advises national and international health agencies. Her work has been presented at the National Academy of Sciences, USA, featured in the PNAS and in media including Changemakers of the Economist, The Wall Street Journal, and BBC. She is a member of the 2018 Cohort of the Royal Society of Canada and featured in the list of Canadian Women leaders in Global Health.
Email: nitika.pai@mcgill.ca and website: https://www.nitikapantpai.com
ITINERARY:
Thursday October 12, 2023, 9:30-10:30 AM EST – OSCC Annual Scientific Meeting, Kitchener-Waterloo, ON
Friday October 13, 2023 – Keynote Speaker, 2:00-3:00 PM EST, Calgary, AB
Tuesday November 7, 2023 – hosted by SQBC, Montreal, QC
Friday November 10, 2023 – 11:00 AM EST, The Maritimes (virtual) – TBC