Educating the Public on Clinical Chemistry (EPOCC) Committee







EPOCC News
2018 Winner of CSCC Award at the Canada Wide Youth Science Fair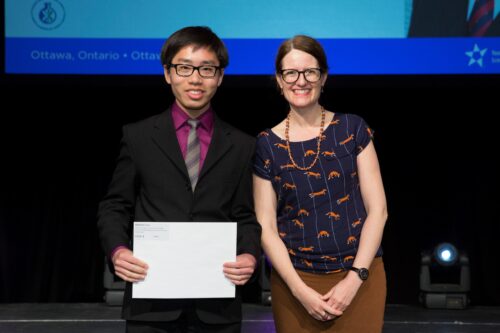 The winner of the 2018 CSCC Youth Science Fair Award was Matthew Zhou, for his submission on "From Brain to Heart: Complications following Insular Ischemic Stroke".
Abstract:
Neuroinflammation and cardiac fibrosis are complications of stroke and cardiovascular disease respectively. This project quantifies these two complications in order to study the brain-heart interaction following an ischemic stroke in a novel rat model. Results demonstrate a significant positive correlation between neuroinflammation and cardiac fibrosis. This novel relationship could have significant clinical value in the development of alternative diagnostic techniques for heart diseases.
Biography:
My name is Matthew Zhou and I am a Grade 11 student at London Central Secondary School. My interests include music, mathematics, chess, and science. I started playing piano at the age of six and I have won several awards at both regional and provincial competitions, including a Gold medal for the top Grade 10 RCM mark in Ontario. My interest in mathematics has led me to win multiple awards in math contests. I also enjoy playing chess and I have won many awards in regional chess tournaments. My strong passion for life sciences allowed me to win a Gold medal at the Canada-Wide Science Fair last year. This year, I received the inspiration for my science fair project through my strong interest in understanding the interactions between biological systems, especially ones of a pathophysiological nature. After learning about brain-heart interactions following insular ischemic stroke, I found that a relationship existed between the neurogenic and cardiogenic factors involved. With my strong interest in life sciences, I hope to pursue a career in medicine. My advice for any newcomers to the science fair is to never ignore ideas that seem too difficult. With hard work and dedication, anything can be achieved!
2017 Winner of CSCC Award at the Canada Wide Youth Science Fair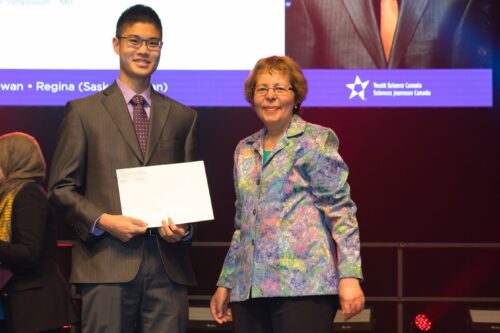 The winner of the 2017 CSCC Youth Science Fair Award was Justin Lin, for his submission on "Peptide-Directed Knockdown of Misfolded SOD1 by Chaperone Mediated Autophagy".
Abstract:
ALS is a neurodegenerative disease that results in death 3-5 years following diagnosis. Currently, there is no cure or definitive diagnostic test for ALS. This project investigates two novel techniques: firstly, we demonstrate the potential of our modified ELISA technique as a diagnostic tool. We also show our TAT-CT4-CTM peptide's ability to knock down ALS-associated misfolded SOD1; this peptide could be a cure for ALS.
Biography:
My name is Justin Lin and I am in Grade 12 at SJR school in Winnipeg, Manitoba. My hobbies include playing piano and debating. In my spare time, I do a lot of volunteering at various organizations, although I especially enjoy peer tutoring. I also play sports such as basketball, soccer and ultimate frisbee. I hope to pursue a career in medicine or research. This will be my third and final year at CWSF. After doing two years of cardiovascular research, I decided to try something new this year by working in a neuroscience lab. My project developed a new strategy to target ALS, a devastating neurodegenerative disease that results in death 3-5 years after diagnosis. My results are very promising and my lab is now testing the peptide-based treatment on ALS mouse models. To any other students thinking about doing a project, I would recommend following your passions and finding a mentor who is willing to work closely with you. It is also important to have faith in yourself and persevere; I believe that the research conducted by high school students can change the world!
2016 Winner of CSCC Award at the Canada Wide Youth Science Fair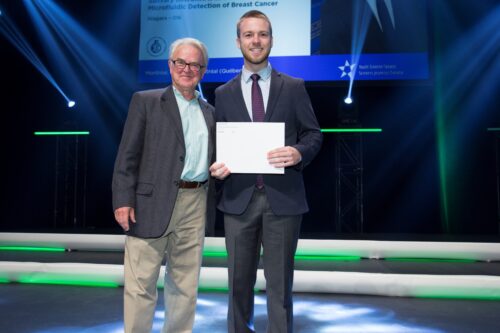 The winner of the 2016 CSCC Youth Science Fair Award was Lucas Penny, for his submission on "Salivary microRNAs as a Novel Tool for Microfluidic Detection of Breast Cancer".
Abstract:
A successful, low-cost system for detecting breast cancer in its early stages is proposed. This study utilized a microRNA profile from saliva breast cancer samples to test early disease onset. A microfluidic device using saliva was then developed to test microRNA profile. The use of salivary microRNAs for diagnosing cancer is a novel, non-invasive technique that would reduce cost and risk for patients and doctors.
Biography:
Lucas Penny is a passionate grade 10 student, scientist and athlete. He has been actively involved with science all of his life. His past scientific work has included researching TrkB, which plays a crucial role in development of brain networks, to study in a mouse model of autism spectrum disorder (ASD). Lucas is also on the rowing team for school. During his grade 9 year, he won gold with his crew in the Canadian National Secondary School Regatta. Aside from athletics, he is a member of the Education Minister's Student Advisory Council, and is playing level 8 Royal Conservatory of Music. At school, Lucas is the President of the DECA club, a member of the Student Council, and on the committee for Relay for Life. Lucas hopes to pursue a career in medicine and believes that being involved with science fair is an incredible way to contribute to his learning and society at large.
EPOCC Sponsors Award at National Science Fair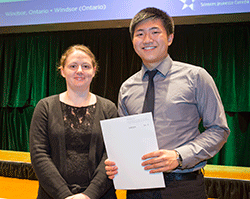 The winner was Michael Xu, shown here with Dr. Angela Rutledge, CSCC member, who presented him with the award.  Michael qualified for the Nationals by winning an award at the Manitoba Schools Science Symposium.  He is from St. John's Ravenscourt School in Winnipeg. 
The Canadian Society of Clinical Chemists recently sponsored their first award at the Canadian National Science Fair, held in Windsor Ontario in 2014. At the National Fair, Michael won in the Senior Health category, for a project entitled "Quantitative Analysis of Circulating Tumor Cells in Prostate Cancer".
Biography:
As a grade 12 high school student from Manitoba, I've always had an interest in sports, music and science. Science particularly intrigued me with its practical applications to improve human health. At CancerCare Manitoba, I had the opportunity to be involved with prostate cancer research.  My project uses circulating tumour cells as a biomarker in order to help identify steps of prostate cancer disease progression. Further investigation involves applying this diagnostic information in clinical trials with the goal of  advancing individualized treatment. Science fairs allowed me to explore my interests and actively learn about a topic, with an emphasis on critical thinking. Moreover, presenting to judges also provided a great opportunity to improve through their constructive feedback. I encourage all students to participate in science fairs! It is an extremely rewarding experience.
EPOCC's First "Blood Sweat and Tears Charity Run/Walk" Raises $2,250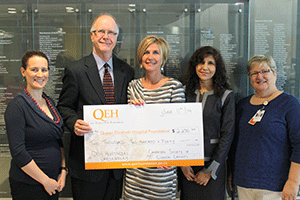 Photo L to R: Dr. Allison Venner, Dr. David Kinniburgh (CSCC President), Tracy Comeau, Executive Director, QEH Foundation, Dr. Humaira Khaman, Medical Director, Laboratory Services, Queen Elizabeth Hospital, Louise Farrar, Chief Technologist, Clinical Chemistry, Health PEI/Queen Elizabeth Hospital.
The Educating the Public On Clinical Chemistry (EPOCC) committee and the Canadian Society of Clinical Chemists (CSCC) teamed up for CSCC's first ever charity run on June 6, 2014 in Charlottetown, PEI to raise money for the Queen Elizabeth Hospital Foundation.
The 5 km Blood Sweat and Tears CSCC Charity Walk and Run coincided with CSCC's 58th Annual conference and raised $2, 250.00 for the QEH Foundation which will be used within the provincial Laboratory. "We exist to support the QEH Family with the purchase of up-to-date medical equipment and technologies," said QEH Foundation Community Relations Officer MaryEllen Hughes at the race. "We currently have two lab coagulation instruments we are trying to raise money for." Queen Elizabeth Hospital Foundation confirmed the proceeds raised during the charity run went directly toward the purchase of the two new coagulation instruments. With the QEH being Prince Edward Island's main referral hospital, Hughes says QEH can't thank CSCC enough for its support. "Everybody needs the hospital. No matter what. Everyone is going to need the QEH at some point in their lives, especially the lab for diagnostics.  Everybody came together to make this happen and it's really great." EPOCC member and Chair of the organizing committee for the charity race Allison Venner says EPOCC looks for initiatives to give back to the community when CSCC visits a city. "The race was one of the ideas that came up. Not only can we have CSCC members participate but over the years, we can gradually increase the number of local community members running or walking with us. We are looking for ways to expose our profession and this was a good way to do that." The race had 28 participants and 23 volunteers including the organizing committee: Valerie Robinson, Ron Booth, Nathalie Lepage, Andrew Lyon, Curtis Oleschuk and Allison Venner.  The Running Room and Ready2Race also offered support along with generous sponsors Sysmex, Siemens and Roche. "We had a nice mix of people step in and participate which was great," says Venner, adding the first race was a success. "We couldn't have asked for a better day!" Plans have already begun for the second Blood Sweat and Tears Charity Walk and Run in Montreal in 2015.